The Stone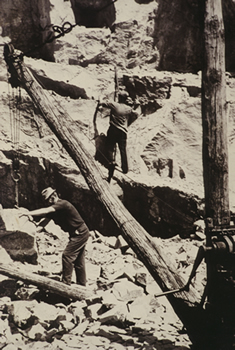 The Pietra Piasentina is a calcareous rock, grey coloured background with some (streaked) white crystal veins and areas
of brown red shades.
It's resistant and because is not freezing, it's perfect for outdoor workings in which it fits different architectural style and it's an exclusive product for the interiors as it easily combines to the different furnishings and interior decorations thanks to the various workings and finishes.
It's a compact stone, with an high resistance to flexure, use and load stress, a low water absorption coefficient, it is not freezing and it doesn't suffer chromatic changes due to the effects of the weathering.
All these features make the Pietra Piasentina a very flexible material that can be worked in many different finishes and is suitable to the realization of any type of product from simplest, like semi-finish products for marble-cutters, to most elaborated ones requested from architects and designers.
The finishes are many and they can be made by machineries or by hand.
The standard finishes are: crude sawn surface, smoothing, polishing, honed surface (or smoothing 3rd wheel), bush-hammered, flamed, flamed and brushed, sand blasted.
The hand-made finishes are: hand bush hammered, hand furrowed, hand chiselled and hand brocade.
The finish selected will produce a chromatic variation of the stone surface that will go from the light grey of the crude sawn and smoothed stone to the dark grey of the polished stone.
The chromatic characteristics joined to the variety and diversity of the finishes allow to realize different combinations simply using the Piasentina Stone or coupling it with other materials.
Piasentina Stone is suitable for every kind of use, from floorings, thresholds, panels for doors and windows, coverings, stairs, tops for kitchen and bathroom, street curbs and pavements etc., to personalized workings and on projects and design works.
The installation of this stone is easy and it can be done in traditional way with sand and cement or with the modern adhesives.