The Quarries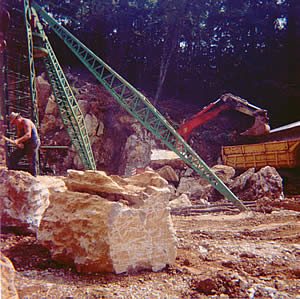 The quarries of Pietra Piasentina are located in the piedmont slopes (ziìone) of north-east of Friuli Venezia Giulia, near the border with Slovenia.
Till now quarries of Pietra Piasentina have not been discovered in other places in Italy or in the world, while other stones, similar for colour, haven't the same technical characteristics.
This oneness makes the Pietra Piasentina a product very refined, in demand and exclusive too.
In the surface quarries the stone is extracted as erratics of different shape and sizes (till about 30 tons) by mechanic machineries (excavators with grab-bucket) and, in a very little part, by explosives.
The quarries of Pietra Piasentina only marginally affect environment because they have a restricted extension and aren't very deep.
After the extraction of the material, moreover, the field is restored, remodelled and clothed with green again, till to take it back to the original state of wood or grassland.
The availability of material in our own quarries is good and its quality is homogeneous and constant.